Welcome To Text Mate
Hi and welcome to Text Mate!
My name is Wiley (Derek Maak's alter ego) and I'll be your guide as you explore the site (that's me a little ways down the page with the big friendly smile). If you have any questions or comments along the way, please don't hesitate to contact me through the contact page.
I'll go ahead and answer a few quick questions for you to help you get oriented…wouldn't want you to get lost before you even get started. It can be a real jungle out there.
So let's talk about the basics…
What Is Text Mate?
Text Mate is a website with one major goal…
"To teach men and women how to use texting technology to improve human connection."
Through the Text Mate website I'll connect you with powerful resources, experts, and my own experience and insights that will show you how to use your cell phone and other technologies to improve your relationships. When used right,
text messages
can be extremely effective at increasing passion, romance, and intimacy and they can even help you get your ex back after a breakup.
Not to mention they are a heck of a lot of fun to craft and send. Awesome stuff!
Who would have ever thought pressing a few buttons with your thumbs could bring about such amazing results? It's sure to be an exciting ride.
How To Navigate The Text Mate Website
Now let's talk a little bit about how to find your way around the site.
First, if you want to search for something specific you can do so from the search bar. It's located in the blue bar at the very top of every page. See it up there?
Just type in what you're looking for and let the engine go to work. It will find the most relevant results for you.
If it can't match your query to any posts, then it will let you know by indicating no results were found. Pretty simple, right?
You can also use the sidebar on the right side of every page to browse through recent posts, popular categories, and other cool stuff. Everything should be pretty straightforward. Easy peasy!
Be On The Lookout For Wiley's Tips
As you browse through the site, pay special attention to what I affectionately call "Wiley's Tips". They look like this…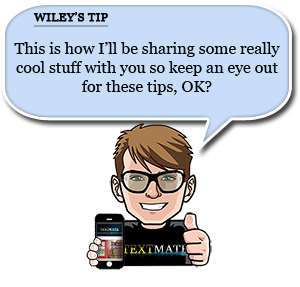 Wiley's tips emphasize important points, guide you to amazing resources, put you in touch with leading experts, reveal cool facts, and will even let you in on a secret or two that will make your text messages more powerful.
They are as close as it comes to "Text Mate Gold".
What Happens If I Get Lost Or Have Questions?
If you get lost or can't find what you're looking for yell out "HELP ME WILEY!" at the top of your lungs and I'll scramble up a search team and come looking for you. Or you can just shoot me an email through the contact page. It's easier, but not quite as much fun as yelling.