Text Your Wife Into Bed Using Michael Fiore SMUT
Ok guys, it's time to talk man to man. Today, I want to talk about how to text your wife (or girlfriend) into bed using what is lovingly referred to as smut.
My good friend and relationship expert, Michael Fiore, sent me an email the other day talking about smut and how it can be used effectively to turn women on…in a big way.
The term was actually new to me (maybe I don't spend enough time thumbing through erotic thrillers), so I searched for a definition online. I never did find a really good explanation, but what it basically comes down to is "sexual fiction".
Smut is not porn, although it is sometimes classified that way. And that's a good thing because most women don't like porn.
So why is sexual fiction so powerful if you want to get women in bed? It's because the best and fastest way to turn a woman on is to focus on her MIND, not her body.
So stop sending her pics of yourself with your shirt off and stop texting her about how long your "WOO HOO" is. Got it? Good.
The Overwhelming Power Of Smut
If you want to understand the power of smut, just take a look at the book, "50 Shades Of Grey". Is it a literary masterpiece? Absolutely not.
Yet, it has sold millions of copies worldwide, and it's like crack cocaine to women.
According to Michael Fiore (and I think he's absolutely right)…
"The fact is there's nothing in the world that turns women on more than language, words, and stories about dominant (but respectful) men absolutely RAVISHING a woman."
So you might be thinking, "Ok, well that's great, but how about a little proof." Well, Michael decided to do a little experiment on his Facebook wall by writing his own smut and testing the reaction.
Here's what he wrote…
"She felt sore. Battered. Wonderful. She ached deliciously. Every muscle in her body relaxed. A silly grin crawled across her lips. She didn't think it would ever go away.

Sara could still feel him on top of her. Inside of her. Her neck was raw where his stubble had rubbed. Her wrists felt tender where he'd pinned them above her head.

She lay there and remembered every sensation. Every thrust. Every moan. Every wonderful, wonderful scream.

But mostly she lay there and remembered his eyes. Deep and blue and focused so intently on her. And the smile on his face when she tensed and shuddered and called out his name.

"Again, again, again" she thought.

"Dear god, let me see him again.""
Now, if you're like most guys, you're probably thinking, "BARF! Talk about a total cheese factory!" And I highly doubt you'd sit here and read pages and pages of that stuff.
But your wife…
Your girlfriend…
The hot waitress at the local cafe whose sexual curves drive you totally insane…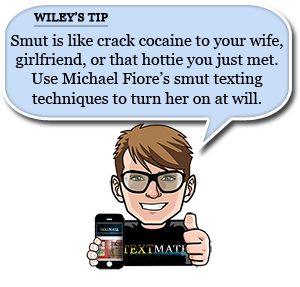 To these women, this type of stuff is the sugar, the spice, and everything nice. Total turn on. Complete addiction.
For example, the women who posted back on Michael Fiore's Facebook wall said stuff like…
"More plz!"
"It sounds like you really know what women want. HOT!!"
"Woah, I think I just wet my pants!!"
"Did it all of a sudden get warm in here? WOW!"
So I think this makes it crystal clear that SMUT takes hold of a woman's libido in ways you and I will probably never understand.
But how do you make it work for you? How can you use smut to get women into bed?
After all, most of us don't have the creative genius and imagination it takes to come up with text after text of this stuff, and heaven forbid you screw it up and sound like a total jerk-off. (You're probably getting a mild panic attack just thinking about it.)
The good news is, you don't have to because Michael has already done all the work for you in a program he calls Text Your Wife Into Bed. But don't let the name fool you because this stuff works incredibly well on girlfriends and even girls you've just met or recently started dating.
Michael says…
"It's my way of giving you "automatic smut" where all you have to do is follow a few instructions and hit send on your phone.

And reap the benefits as she gets that half-lidded lustful look in her eyes . . . says "I never knew you could do that" and drags you off to the bedroom by your tie.
Learn all about this "automatic smut machine" by clicking here.
It totally rocks!
See you in the next post,
Wiley